dankp0rn full movie review – Slam Piece (Evil Angel)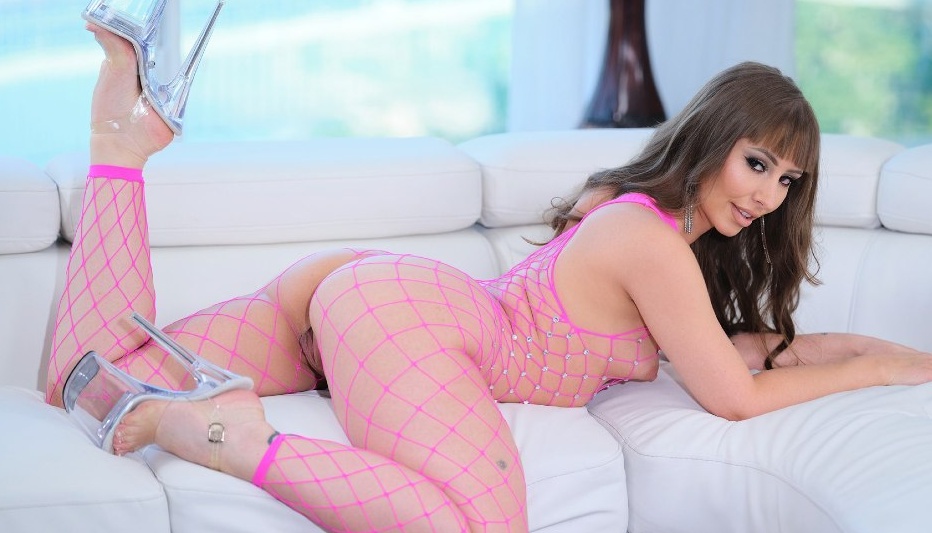 After waiting for three weeks, the Evil Angel movie Slam Piece is finally out! All scenes from the Jonni Darkko feature are online and you can buy the full movie as well. To see if it's worth your time, dankp0rn took on the noble task of watching all the scenes, so he can shine his light on it
Movie review by dankp0rn.
Jonni Darkko's highly anticipated Slam Piece brings some gorgeous, relatively new girls, as well as a returning veteran, into the EvilAngel spotlight in a visually satisfying and sexually exhilarating fashion. And for the most part it lives up to the hype. While not without a few surprising choices which some viewers might consider negative, this collection of five scenes ultimately delivers an enjoyable and worthwhile experience.
Jonni Darkko Slam Piece review
Each scene is absolutely beautiful to look at, as Slam Piece follows in the footsteps of Darkko's several previous releases, which he seems to have truly perfected his unique and pleasant visual style. Between the sets, the outfits and the performers, the balance of colors is near perfect, and the camerawork is smooth, dynamic, and it always captures the right moments. The intros are fairly basic, but each one has enough going for it to stand out from the rest. All the girls are at their best, in terms of both looks and performances, and their bodies and talents are showcased more than sufficiently.
However, a notable and somewhat odd characteristic of this release is that, for better or worse, it doesn't shy away from briefly but very noticeably focusing on the male performers, with every scene containing at least one pan-and-zoom to the guy's face. Something which I found pretty unusual (for an EvilAngel/Darkko release) and, as a straight male, quite off-putting at times.
To highlight the more interesting specifics of Slam Piece, a quick scene-by-scene overview is in order.
Scene 1 – Blake Blossom
Blake looks stunning as always and is a joy to watch, but the scene honestly surprised me with how vanilla and 'soft' it is, being strictly vaginal with a considerable amount of sensual foreplay, tender kissing, touching and pussy eating. I'm not sure if it was Darkko's intention to deliberately portray sex that has more emotion and passion to it than the movie's title implies, but I personally found it unnecessary and felt like it sidelined some of the more exciting moments, like the amazing cowgirl riding near the end. Also, as nice as the load of cum Blake received on her pretty trimmed bush was, I can't help but feel like not spraying it onto her indescribably gorgeous face or perfect natural tits was a missed opportunity.
Rating: 3/5
Scene 2 – Kitana Montana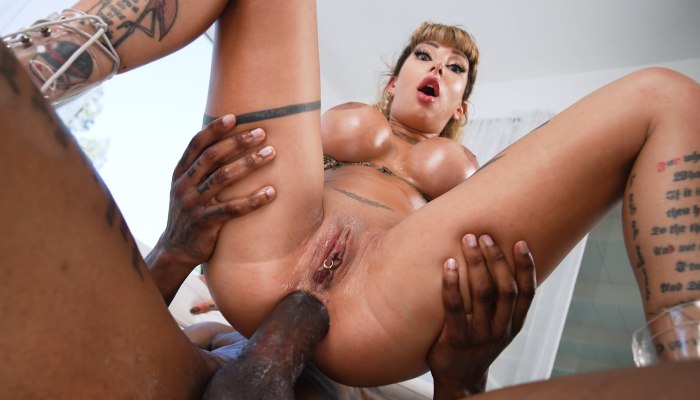 I found Kitana to be a crucial addition to Slam Piece's cast, as she really spiced it up with her body type and overall look that differs significantly from the other girls. This scene undoubtedly has the best intro of the bunch – it's set outdoors and seamlessly transitions into a slow-motion blowjob as the music slowly fades out. In fact, it might just be the scene's biggest highlight – the sex is overall solid but it has what I found to be a big flaw. Damion Dayski is a good-looking, charismatic young performer with a great porn cock, but for some reason he seems to really struggle with anal, showing a noticeable lack of ability to deliver long deep strokes. This results in a lot of tip-fucking that's not very satisfying to watch. On top of that, his load was unfortunately quite small.
Rating: 3/5
Scene 3 – Holly Hendrix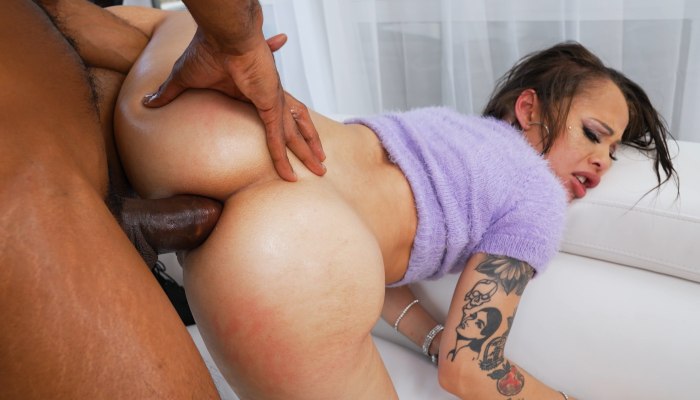 The third scene definitely stepped up the pace and quality of Slam Piece, as the previous two were enjoyable but sadly bogged down by a lack of intensity and consistency. Holly delivers an unsurprisingly intense performance and I'd even say she looks better than ever while doing so. This is more of a straight-forward anal scene we've come to expect from Darkko. Fans of Holly should definitely check it out, but it does have a few instances where she insisted a bit too heavily on having her clit rubbed in order to cum without any penetration, which ultimately only broke the flow of the scene and is completely skippable.
Rating: 3.5/5
Scene 4 – Kay Lovely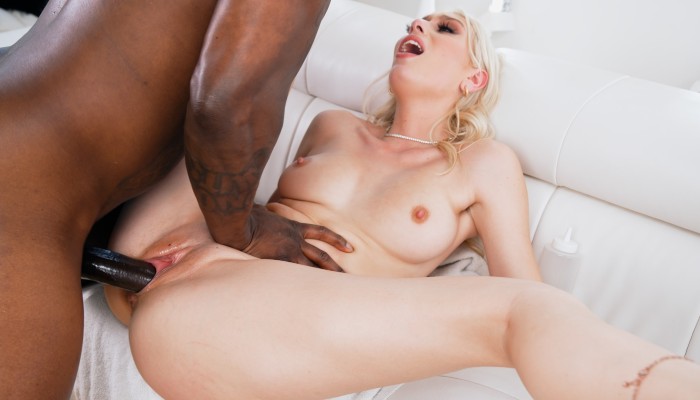 This was Kay's EvilAngel debut and she absolutely delivered with a fun and genuine performance that, among other things, definitely made this the better of the two vaginal scenes. Being visually and compositionally quite minimalistic, as well as comparatively shorter, this is the most basic scene of the movie. But, it's simply entertaining throughout, a very flattering addition to Kay's growing filmography, and also has the best cumshot of the movie.
Rating: 4/5
Scene 5 – Tommy King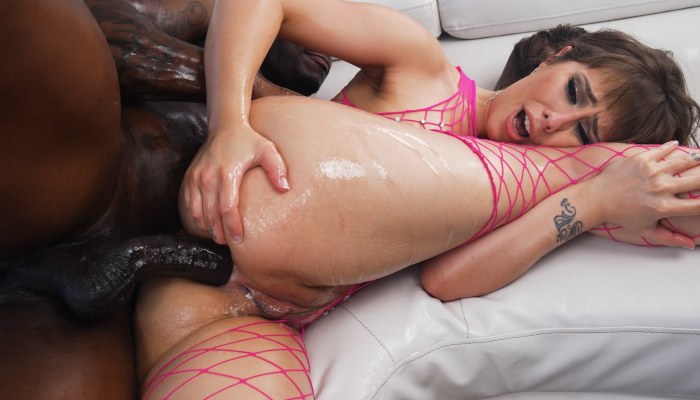 I may be a bit biased with this one, as I've basically been in love with Tommy these past few months and find her to be one of the most promising girls in porn right now. Speaking as objectively as I can, I still think this is the best Slam Piece scene. It's more colorful than the last one, it has plenty of great vaginal and anal action, and Tommy delivers some truly impressive sloppy deepthroating and spit play, making lots of prolonged eye contact with the camera and shaking her big ass as she chokes on Rob Piper's BBC. The scene does slow down a bit in the second half, switching its focus more to Tommy's pussy, but it eventually comes back to anal for one more round, leading to another lovely facial.
Rating: 4.5/5
Final verdict
Overall, Slam Piece is yet another masterful release from a director that simply does not disappoint. It improves on some aspects of his work that I always had a gripe with, like a lack of position variety and the issue of lingering too long on a single position, but it also introduces some unexpected tendencies (experiments?), such as the increased focus on male performers and the more sensual moments. Most importantly though, it showcased some gorgeous girls (some of them quite underrated) doing what they do best. In my opinion it is worth a watch, but if you can't decide which scene to start with, hopefully this review will be of some help.
Final rating: 4/5
General information
| | |
| --- | --- |
| Movie title | Slam Piece |
| Directed by | Jonni Darkko |
| Studio | Evil Angel |
| DVD release date | February 2nd, 2022 |
| Total runtime | 03:36:48 |
| Categories | Boy-Girl, Interracial, Anal, Vaginal, Deepthroat |