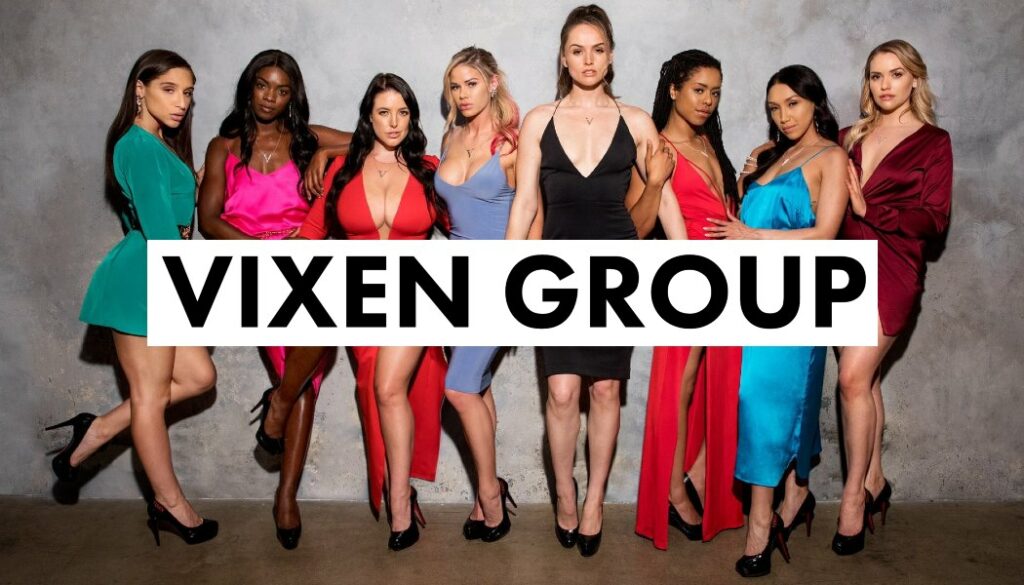 The Vixen Media Group is the parent company of studios like Vixen, Tushy, Blacked and Deeper. It's founded in 2014 by names like Greg Lansky. Over the years, this company got a lot of mainstream media attention, praising it to 'revolutionize porn'.
In 2014, Greg Lansky, Steve Matthyssen and Mike Miller founded the Vixen Media Group. They did this with the intention of taking a new approach to filming mainstream porn. By giving it a more artistic look, it got a lot a lot of attention from mainstream media. Some of the bigger companies to do this were Forbes, Vice, BBC and GQ. This has mostly to do with the scenes having a sense of exclusivity. The way they achieve is, is with use of colour (grading), their rich environments, directional choices and glamorized look of the videos.
A lot of people have trouble seeing the difference between Vixen and Vixen Media Group. Vixen is a porn studio that puts out scenes, while the Media Group is the parent company that has control over all seven studios.
Exclusive features
By making sure Vixen Media Group got a lot of 'firsts', they quickly turned their studios into some of the most popular ones to this date. You can simply check the Pornhub channels and see how Blacked is at #2, only topped by Brazzers.
Some of these 'firsts' come from studios like Tushy and Blacked. Because these focus around anal and interracial sex and do this in an artistic way, a lot of big pornstars are on there with their 'first'. For example: Riley Reid, Lena Paul and Kendra Lust did their first anal on Tushy, while Mia Malkova, Jynx Maze and Keisha Grey did their first interracial scenes on Blacked.
Not only do the sites have lots of mini series on one site, but also series that have episodes between all available studios. This is a trend of the last few years, with the main examples being "Psychosexual" (featuring Gianna Dior) and "Influence" (featuring Emily Willis).
Vixen Angel of the Year
To make the Vixen Media Group look even more exclusive, they crown one girl each month to be their 'Vixen Angel'. Once per year, they also give one girl the title of Vixen Angel of the Year. This started with Kendra Sunderland in 2017 and has been a tradition ever since.
These are all the Vixen Angels of the Year, so far:
Kendra Sunderland (2017)
Tori Black (2018)
Teanna Trump (2019)
Ariana Marie (2020)
All Vixen Media Group studios
The Vixen Media Group has seven studios under her belt. Here, you find the names and the way they stand out from the rest.
Vixen = Glamorized porn. Doesn't include anal porn and usually not interracial as well.
Tushy = Anal porn, mostly with Caucasian, male performers. While the scenes don't have anal 100% of the time, it does have it in every scene, one way or another. It has a gonzo counterpart, called Tushy Raw.
Blacked = Interracial porn. Interracial meaning a usually white girl with a black, male performer. In the more recent years, it sometimes has ebony girls as well. Blacked scenes sometimes include anal sex as well. Also has a gonzo counterpart, called Blacked Raw.
Deeper = A more kinky type of sex. Always has a (light) form of BDSM, with some sort of role play and power dynamic between a dominant and submissive person.
Slayed = The all lesbian site of the Vixen Media Group. This is the all girl site of the brand.
MILFY = An all MILF porn studio. The sex here varies from anal and vaginal to interracial and threesomes.
Style of the studio's sites
While all studios from the Vixen Media Group are different, the sites all look the same. However, by looking at what they look like, this is not a bad thing. All the sites feel like browsing through a high end fashion magazine. They do this with large thumbnails, a clean and somewhat minimalistic website and great photography.
Another small thing that adds to their exclusive look, is the short titles of the scenes. Normally, a studio tries to put in as many keywords to make the scene easy to search for (example: "[pornstar X] takes BBC in the ass in hardcore anal scene"). With scenes from the Vixen Media Group, scenes usually have names like "My Celebrity Crush", or "Impersonate".
One of the few negative features of the layout is the lack of watching previews of scenes. This is only optional for upcoming scenes. When trying to watch one of an already released scene, you'll see the text "Access Denied. You must be a member to watch this video".
You can find the Vixen Media Group on social media on both Twitter and Instagram.
All Vixen Media Group studio reviews
The Pornfolio has separate reviews from all seven studios of the Vixen Media Group. You can all check them out, by simply clicking or tapping on the pictures you'll see down below. These reviews include lots of information about the studios, such as what makes them stand out from the rest and what the best scenes per site are.