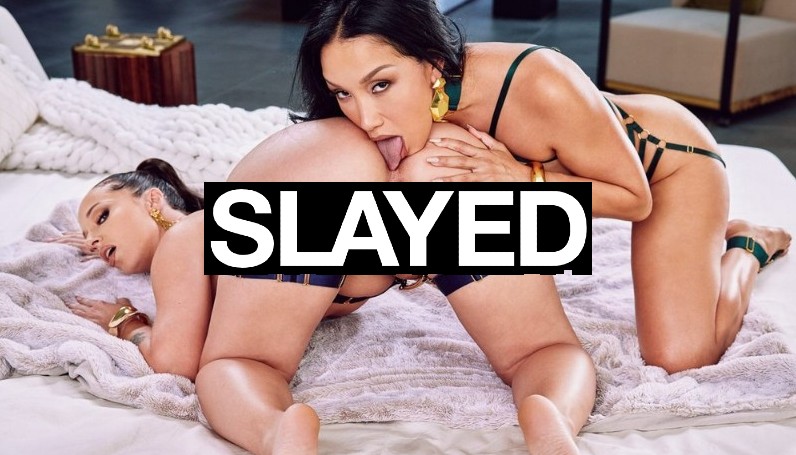 Slayed is an all lesbian studio from the Vixen Media Group. It's active since June 2021 and has major female pornstars in it that normally don't shoot studio porn anymore. Some of them are Aidra Fox and Jada Stevens.
Slayed is the seventh and most recent studio of the Vixen Media Group. Since 2021, it weekly releases a new lesbian video. While the studios of the Vixen Media Group have done lesbian videos in the past (such as Vixen and Tushy), there has never been much attention for lesbian porn. But now, that's a thing of the past.
High ratings and returning names
While Slayed is still pretty young, the ratings it gets on the videos (same system for every studio of this brand) are far higher than the rest. If you sort the videos by 'Highest Rating', you'll see that the entire first page has a minimum rating of 9.5. On other sites, a 9.5 usually means it's at least among the top 3 videos of that site. One scene that really stands out is the lesbian action between Jada Stevens and Vicki Chase in 'Immerse'. That one currently sits at a mindblowing 9.9.
Another thing that makes Slayed worth watching is the return of some of the biggest female pornstars. While names like Jada Stevens and Aidra Fox are normally (semi) retired from mainstream porn, they already have two lesbian scenes for Slayed in just a few months time. So if you wanna see them shine again, this is the place to be.
Website of Slayed
The website of Slayed looks like all the sites that are part of the Vixen Media Group. It contains large images of the videos, with previews shown if you hover over them with your cursor. On top of that, there's a lot of great photography to enjoy.
One thing that is different is that Slayed doesn't have a 'Top Videos' section on the homepage yet. This has most likely to do with the fact that it's still a very young site. Over time, this might very well change.
Searching is very easy to do, between the videos online, the categories and the (yet) relatively few pornstars that appear on this site. Because searching for pornstars for studios from this brand can be a bit all over the place, The Pornfolio normally lists down the ones that represent the studio best. However, since Slayed is still very young, we just want to say the ones that appear frequently are Jada Stevens, Aidra Fox, Emily Willis, Scarlit Scandal, Avery Cristy and Gianna Dior.
Best Slayed scenes
Right here, there would also be a small section of the best and most iconic scenes. To narrow this down a little bit, here are three Slayed scenes that you simply have to check out.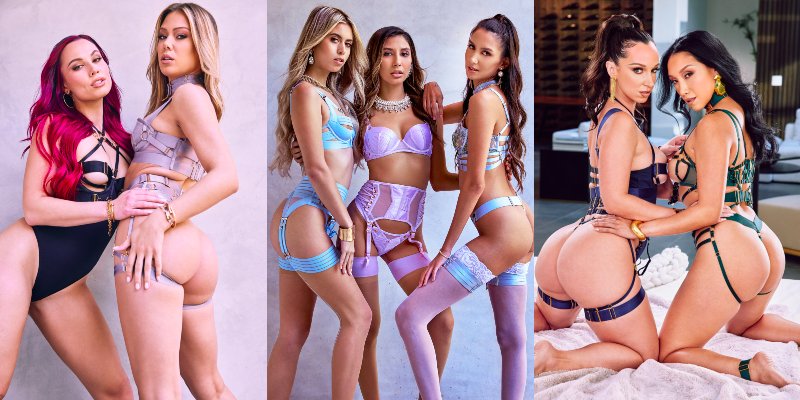 Aidra Fox and Avery Cristy – Stream
Jill Kassidy, Gianna Dior and Natalia Nix – Close Up
Jada Stevens and Vicki Chase – Immerse
Support
Slayed has a support page where you can find most answers through their FAQ (Frequently Asked Questions). This covers most important subjects, such as downloading scenes and having account problems like logging in. You can also ask a question yourself.
There is also a separate page about reporting content. Reasons for this can be copyright or potentially violent or harmful acts.
On social media, you can follow Slayed on Twitter and Instagram.
Personal opinion
Slayed is an all lesbian porn site that obviously sets the bar very high for same sex porn. It has some of the best names that are currently active and while ratings don't say everything, these ones being so much higher than the other Vixen Media Group sites cannot be ignored.
If you're into lesbian porn, this is one that should at least subscribe to once. And if that's not the case, it's at the very least worth considering. In other words: Slayed has a very high quality.