Classic review: Lisa Ann and Julia Ann in an oily foursome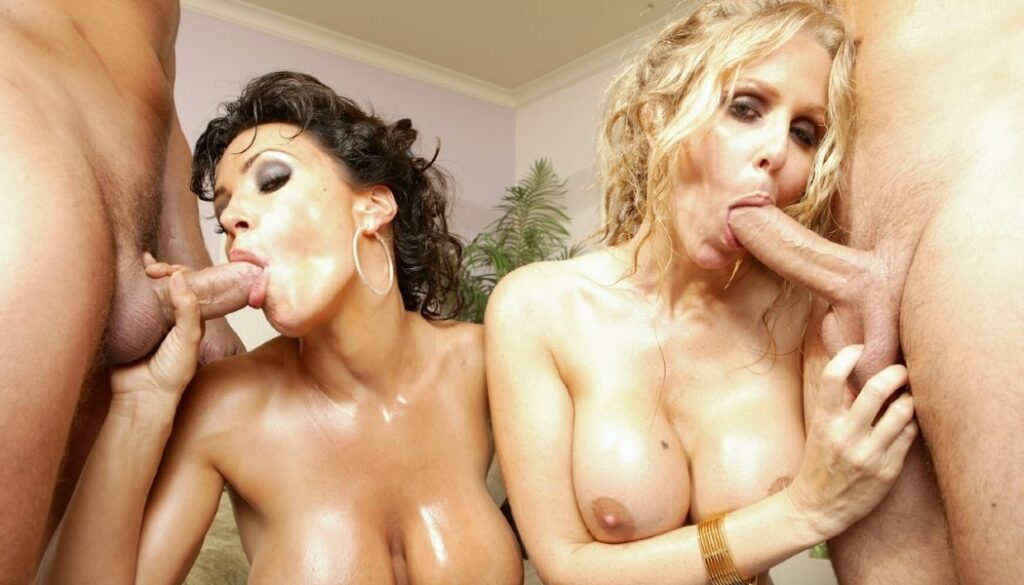 It's time for another review by dankp0rn! And instead of shining a light on new releases, it's time to revisit an absolute classic. For this review, it's time for a very oily foursome with the legendary MILFs Lisa Ann and Julia Ann.
Classic scene review by dankp0rn
Two MILF icons join forces in this classic Jules Jordan scene to deliver an unforgettable viewing experience. From the moment they flash their exquisite pussies in true Sharon Stone fashion during an intro that's both playfully laid-back and extremely sexy, you know you're in for a ride and about to have your mind and your cock utterly dominated by these ladies.
The sex admittedly starts pretty late into the scene, but the nearly 20 minute-long intro unfolds in multiple oily phases so it never feels boring. Once the fucking starts, however, Julia and Lisa's dedication and undeniable talent shine through as they suck, titfuck, and ultimately start riding the two lucky cocks, continually getting drenched in oil. Through a series of tried-and-true but dynamically and masterfully shot positions, they show genuine skill and provide top-tier porn entertainment.
The performances, however, are only half of what makes this scene truly great. The way all this amazing sex is filmed is an absolute masterclass in porn cinematography. With angles and compositions that change beautifully and naturally, Chris Streams made sure to create shots that show both pornstars in all their glory at once (even when one of them is in the background), as well as give them time to shine individually, complemented by perfectly placed gonzo close-ups. The sex positions also have a real flow to them, allowing the two girls to occasionally interact with each other in between sessions of hard pounding.
All this combined, along with two incredible cumshots that the two MILFS receive on their big gorgeous tits, truly makes a scene that has since become a goldmine of iconic clips and gifs showcasing its best moments, like the brilliant shots of Lisa and Julia riding together in reverse cowgirl positions around the 25 minute mark.
Final verdict
An iconic, perfectly shot scene featuring two legendary MILFs at their prime, its only flaw being that the sex doesn't start earlier.
General information
To check out other scene reviews, click on the buttons below. These contain an oiled up April Olsen for Evil Angel and Victoria June in her third Jules Jordan scene.