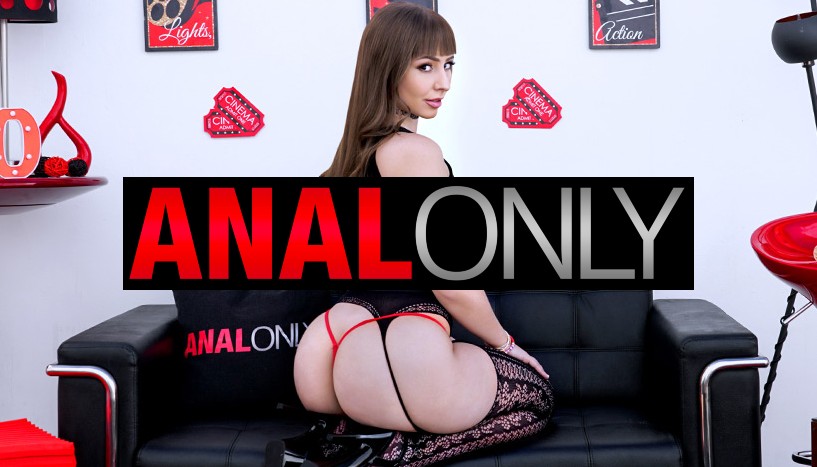 Anal Only is the fifth porn studio from Mike Adriano and KB Productions. It has been around since December 2020, with only one on one anal scenes. This studio also has a dress code, having the girls all wear something with the colors red and black.
It has a lot in common with True Anal, although there are still some key differences. The main that stands out is the dress code from Anal Only. To match the colors of the logo, all girls wear something that includes the colors red and black. This matches with the room they have sex in, which has a lot of red and black elements as well. The scenes are usually around 45 minutes long, with some being being above 50 or even 60 minutes.
Another thing is something that the name might foreshadow: there's only anal sex. This means that vaginal action is out of the question. On True Anal, this is something that's still there, which is what makes it different in a sexual way as well. However, you can still find blowjobs in the scenes. The 'only' part in Anal Only only comes forward in the penetration part.
To make it also different from All Anal, Anal Only doesn't have any threesomes. It only has boy-girl sex. The male performer is – as always – either Mike Adriano or Logan Long. The roster of female pornstars are a mix of household names (like Savannah Bond and Holly Hendrix) and upcoming talent (such as Tommy King and Lily Lou). There's a new video online once every five days.
The Anal Only website
The website from Anal Only looks the same as other porn studios from Mike Adriano. This means a few pages and a clean layout. That way, you have all the necessary stuff out there, without the endless search for the right page to find. Scenes are divided between 'Most recent' and 'Most popular'. Going to other Adriano porn sites is very easy, because of the 'Sites' category in the menu bar.
Downsides to this website are the lack of good photography (the only real photo is for the thumbnail), a non-working search bar and the absence of categories in general. It's also not possible to sort pornstars by 'Most popular'. Only by name and recency.
Normally, this is the part where you can find a list of ten pornstars that best represent Anal Only. But this website is still very young, so there's no way it would be a good list. Instead, here's just a recommendation to at least watch the videos of Tommy King, Bella Rolland and April Olsen.
Because Anal Only is only active since December 2020, it would be weird to already list a number of ten scenes and call them iconic. But to not leave you completely empty-handed, here are three scenes that are definitely worth checking out.
Tommy King – Anal Funday For Tommy
Lana Analisa – Lana Lives Up To Her Name
Jane Wilde – Getting Wild With Jane
Support
Just like Nympho, Anal Only doesn't have its own page for support and help. When clicking on 'Customer Support' at the bottom of the website, you'll get redirected to Westbill. Once there, you fill in all required fields and ask your question. After that, you'll get an answer as soon as possible. Make sure to also check your spam box, just in case.
You can check out Anal Only on social media by following them on Twitter.
Personal Opinion
Anal Only is a website that is only just picking up steam. Therefore it's hard to tell whether or not this is worth subscribing for. Realistically, True Anal is right there, with more scene, more popular performers and a variety in clothing and sexual acts. However, that doesn't mean that Anal Only is bad. But it does have trouble standing out in the Mike Adriano universe of porn studios.
If you solely want anal sex, this is worth considering paying for. Otherwise, other Adriano sites, such as True Anal and All Anal simply do it better.