How to organize your porn: a guide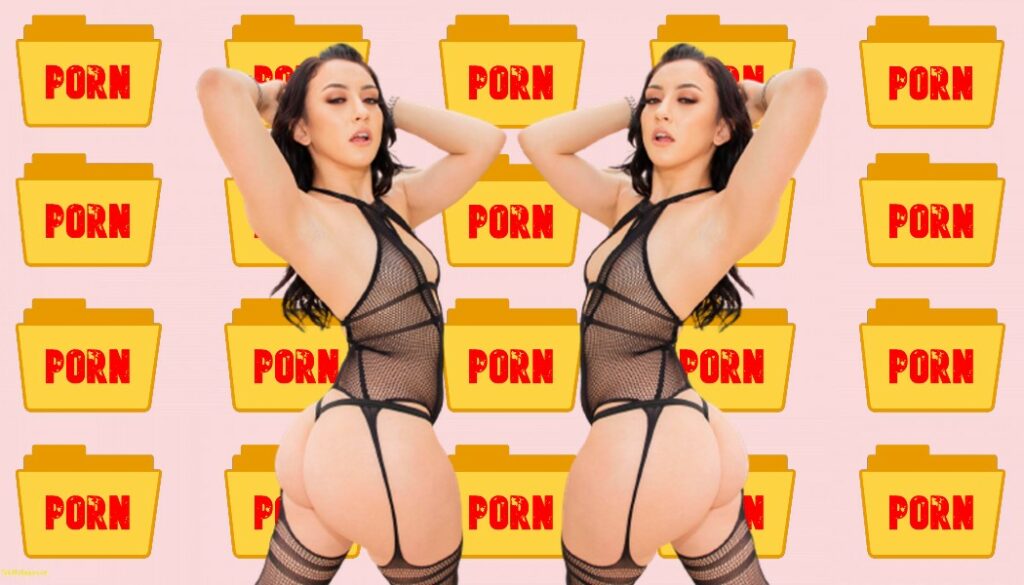 A good way to organize your porn collection is a topic porn lovers have been talking about for a long time. So what better way to shed a light on this then by making a guide to it. This will not only only give some guidance, but also provide useful tips and tricks.
This guide will not be a definitive one to end every other way to organize your porn. Instead, it will (hopefully) create helpful insights and ideas for yourself. That way, you have the ability to make sure to find your favorite porn videos and pictures in a way that makes most sense for you.
How to organize your porn
This guide will only have a few steps, so don't worry about a 30 minutes read on how to put videos from Kristina Rose and Lisa Ann in different folders. However, it will give advice and guidance to start organizing the potential mess that is your massive porn collection.
Step 1: Start separating videos, pictures and gifs
The way you start to organize your porn depends on how it currently looks like. Let's assume the 'worst', by thinking there's just one map with literally all porn on your device. The first thing you can do to give everything some structure, is by putting videos, pictures and gifs in different files. Just start with three folders, named 'videos', 'pictures' and 'gifs' as a starting point. Simple as that.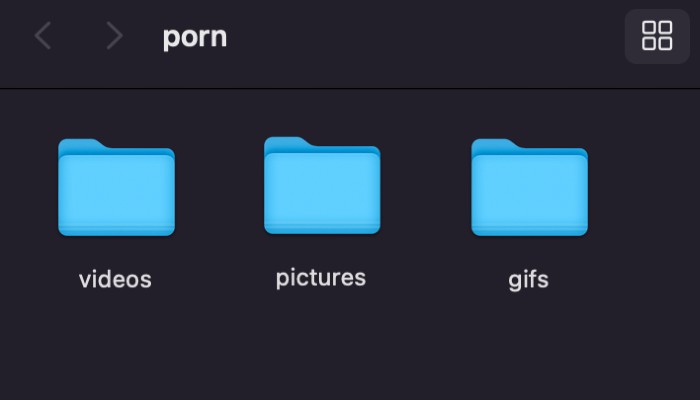 Tip: By starting with this, you often find some duplicate videos or dead links on your computer or phone. It's another reason to start in a simple way like this, because you find out what you do and don't have. On top of that, it gives you the opportunity to delete some unused stuff and create some space.
Step 2: organize your porn by giving all your files a name
This is something you can either do while being busy with step one, or afterwards. Giving at least all videos a proper name is a great way to organize your porn collection. Not only do you know exactly what to click on when you're horny, but it's also handy when you use a search bar. It also allows you to sort everything alphabetically, which is generally the way to go.
It's of course up to you what to name your videos, as long as you don't make it too complicated. Simplicity is key when you want to organize your porn is a pleasing way.
Tip: It helps if you give all your files a name that has the same structure. For example: a Jules Jordan anal video from Kelsi Monroe shouldn't be more complicated than "Kelsi Monroe Jules Jordan anal". You can also shorten company names into JJ (Jules Jordan) or ZZ (Brazzers). Giving it the title of the actual video name is also a way, but makes searching a bit harder.
Step 3: create different for pornstars and/or studios
This step completely depends on the amount of porn you've downloaded over time. If you only have a small number of your favorite videos, putting them just in a 'videos' may already be enough. However, the more porn you've downloaded, the better it is to start categorizing. You can generally do this in two ways: creating files for pornstars or porn studios.
People usually only create files with the names of pornstars. When they're horny, it's normally for a person, instead of a porn studio. There are of course exceptions to this, like the Mike Adriano studios. Organize your porn in a way you're most comfortable with.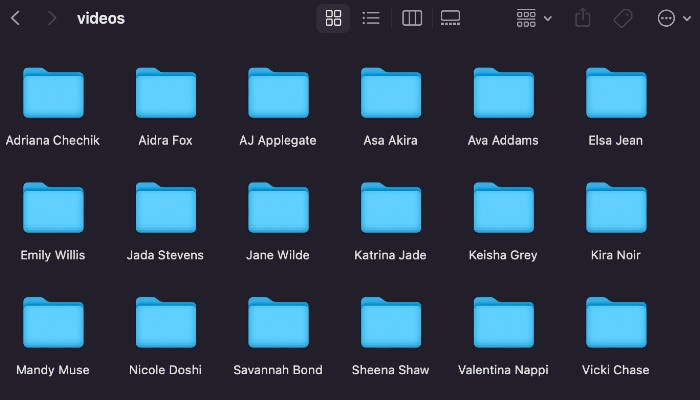 When you have an exceptionally large porn collection, you might even want to first sort by pornstar, followed by porn studio. That way, you prevent to look at a huge wall of files, with not knowing what to pick.
Tip 1: Don't over organize your porn. If your horny, you don't want to go in and out of different files all the time. Make sure you can easily find what you're looking for.
Tip 2: When you have videos of threesomes, it's best to either put in the file of the most prominent/famous pornstar or make a copy of the video and put it in both folders. You can create a separate folder for foursomes, orgies and the occasional reverse gangbang.
Tip 3: If you have a very large porn collection, it doesn't hurt to start making a back up of your favorite and/or rarest videos.
How to organize your 'etcetera porn'
There's of course also porn that isn't just studio porn (like we just focused on). Just think about PMVs and compilations, hentai and FemDom porn and much more. You can put those in folders that makes most sense to you. The preferred way to go is by putting those videos and/or pictures in folders which are only about one category.
Closing thoughts
Like mentioned at the start of this article, there is 'set in stone' way on how to organize your porn collection. Everyone has a different method which feels best to them. This is more of a loose guide to give you helpful tips. The most important thing is of course just quickly find that one perfect video when you're at your horniest. Maybe it's even the start of a great gooning session!