Scene review: Lilly Hall with interracial DP for Brazzers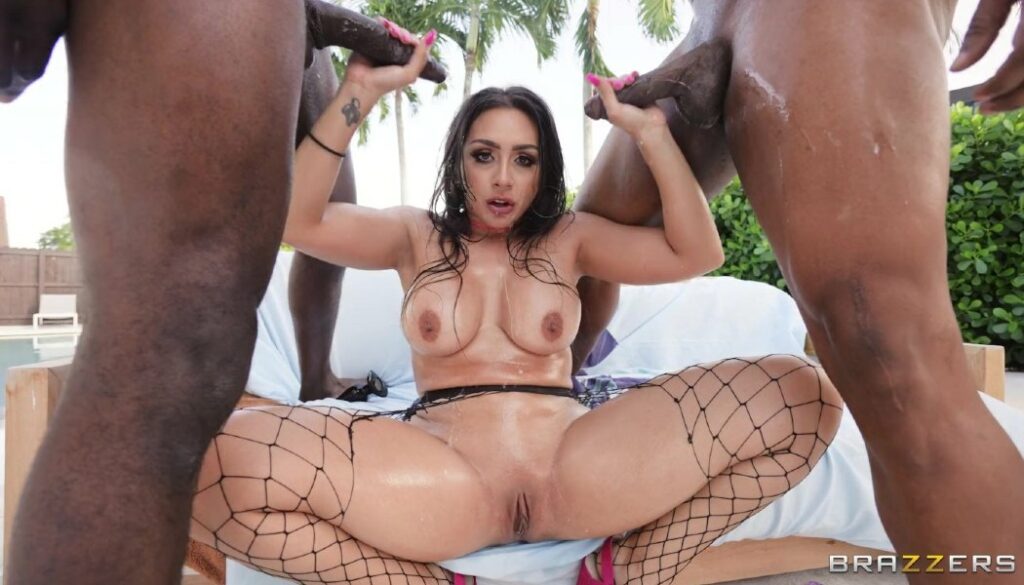 Lilly Hall has a brand new scene for Brazzers that's both interracial and double penetration (DP)! More than enough reasons for dankp0rn to watch this scene to determine if it's worth watching.
Scene review by dankp0rn
For a studio mostly known for simple, traditional scenes with silly plots, as well as, arguably, for a trend of painful mediocrity in the last decade or so, Brazzers seems to be at their best when they embrace gonzo in its purest form. After a quick (too quick?), cleverly edited intro, this scene is simply made up of basic but fun, visually pleasing hardcore sex featuring one of the most underrated pornstars of recent years.
Lilly Hall is an absolute stunner that checks all the boxes for a great porn body and tops it off with gorgeous eyes and a fun personality. This scene showcases all of her apparent qualities, although it doesn't exactly push her limits in any way. Her performance is consistently playful, relaxed and obviously acted (but not disingenuous), so it might be disappointing if you're expecting wild screaming orgasms that usually accompany BBC double penetration. However, her facial expressions and dirty talk are quite entertaining and arguably the highlights of the scene. The positions are plentiful and well executed, and everything takes place in a pleasant outdoor set.
This release is not without significant flaws, though. While it does deliver some gorgeous close-ups, the camerawork generally lacks creativity and often opts for a high angle that comes off as lazy and overly static. They also throw in some wide shots that don't really achieve anything unless you're interested in admiring the male performers' bodies. Speaking of male performers, this scene's biggest problem is Big Tre, who had the misfortune of not being able to get his dick hard throughout, quite literally, the entire scene. At times it was terribly distracting, and to make matters worse it seems like he was also unable to cum, as when it was his turn to do so he had his dick in Lilly's mouth and they both seemed like they were totally pretending. The 'cum' Lilly played with at the very end was most likely just spit. It's worth mentioning that Jax Slayher, on the other hand, performed very well.
Final verdict
A decent, laid-back gonzo scene, mostly made entertaining by Lilly Hall's looks and playful personality, but severely damaged by one of the male performers' unfortunate incompetence. Overall good for a casual watch or if you want to check out/see more of Lilly.
General information
This is one of the many scene reviews from dankp0rn. In previous articles, he shines his light on the newest releases from studios like Jules Jordan and Evil Angel. By clicking on one of the buttons below, you can instantly read them.