Scene review: Karma Rx shares dick with Chantal Danielle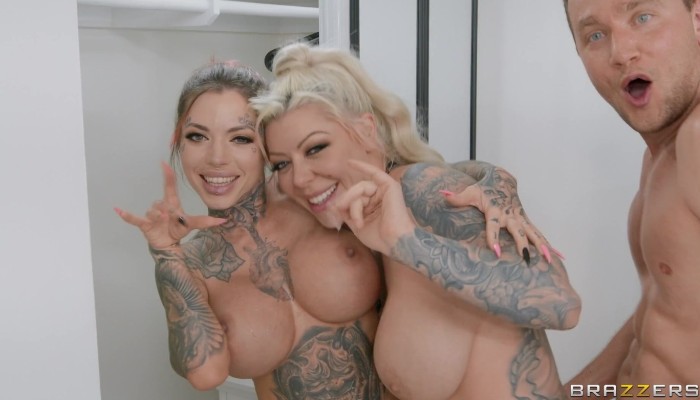 Karma Rx and Chantal Danielle giving someone the fuck of a lifetime sounds right a must watch, right? To put this to the test, dankp0rn watched and reviewed the new Brazzers scene "Smoking Hot Mirrros, And Threesomes!". Time to find out if these two tattooed pornstars are worth your time, or not.
Scene review by dankp0rn:
Let me be upfront – I've been quite a Brazzers hater for a while now, and I've spoken to many who agree that this giant of the porn industry has consistently been going downhill. Releasing mediocre, passionless, visually dry scenes, completely replacing photosets with shitty screenshots. They are also mass-removing short clips of their scenes from entirely non-commercial Twitter accounts, etc. Despite all that, I still find myself driven to watch and review some of their releases. Mostly because every now and then a scene pops up that features really hot performers and seems like a potential breath of fresh air.
This one starts off with a traditionally silly "plot" involving two friends (Karma Rx and Chantal Danielle) whose hyper-sexual tension turns a double date into a horny, sneaky threesome. The premise, while fairly hot, is slightly undermined by some line delivery that's subpar and unenthusiastic, even by Brazzers standards. It also disrupts the flow of the sex in the first 10-ish minutes (aside from a short-but-sweet lesbian session), with way too much time being wasted for "comedic" effect.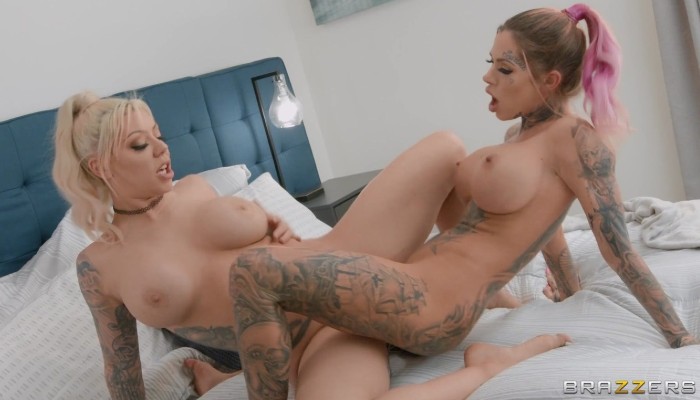 However, once the threesome properly kicks off, the rest of the scene is quite enjoyable and surprisingly consistent. The two gorgeous and talented tattooed bimbos make an incredibly sexy duo and give solid, fun performances. With Karma being a veteran we all know and love, I must say I was particularly excited to see Chantal again. Parts of her performance were a bit over the top, but she overall continues to prove herself as a unique and entertaining pornstar. Watching her big beautiful bolt-ons bounce in reverse cowgirl position is definitely a highlight, but so are the several moments in which the duo really shines, like the initial double-BJ. The dirty talk is also on point, with plenty of fun little interactions between the two girls. Finally, the cumshot is pretty weak, but is made up for by the cum-swapping and the playful ending.
On a more technical note, while the sex is well shot and the positions varied and well executed, the scene does suffer from Brazzers' typical dry, low-contrast visuals and bland lighting. It further damages the memorability of this otherwise entertaining scene. However, I'm glad to say that – while I can't really recommend supporting Brazzers at this time – I can certainly recommend checking this scene out, especially if seeing Karma and Chantal together seems exciting.
Final rating: 3.5/5
General information
More dankp0rn reviews
Do you want to read more porn reviews from dankp0rn? Click or tap on the banner below and get a complete overview of all his previews work! You'll get reviews about new and classic scenes, as well as full movie reviews.