Scene review: Does oiled April Olsen make you wet too?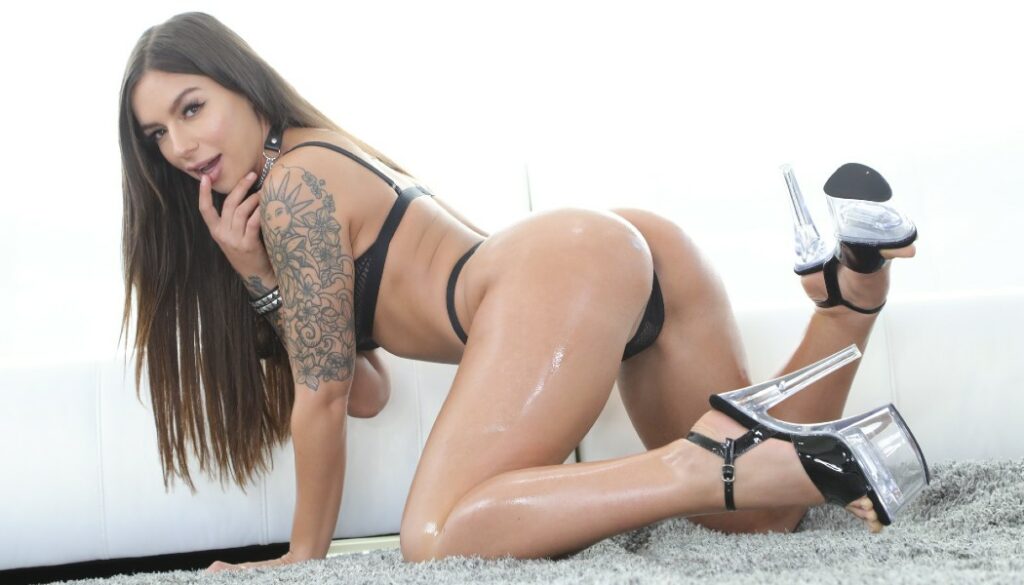 Whenever the time is right, it's time for special guest dankp0rn to not only watch porn, but to also review it! After checking out Victoria June's scene at Jules Jordan, it's now time to check out a very oily April Olsen. Does her scene with Zac Wild for Evil Angel make you wet as well?
Scene review by dankp0rn
Director Pat Myne's style is very simple yet consistently effective – the scene takes place in a minimalist white room and the visual focus is 100% on the sex. The intro tease is short and basic, but it sufficiently shows off April's stunning natural body and even teases her playful personality.
The sex here is pretty interesting and a bit of a mess (not just because of the copious amounts of oil). However, it's saved and even elevated to a highly enjoyable level by a wholesome display of pornstar dedication and talent. After a great throatfuck and arguably a little too much pussy licking, the penetration gets off to a bad start. For some reason (too much oil, questionable technique, or both?) Zac has a lot of trouble keeping his cock inside April. It just keeps slipping out for the entirety of the vaginal section, so much so that I wondered why they didn't cut it out (probably would have been the best choice considering the almost 38 minute runtime). It was quite immersion-breaking and distracting.
Nevertheless, once the anal kicks off, the slip-ups (or slip-outs) happen much less often and the hard, oil-drenched pounding that April receives is very enjoyable to watch. Position variety is admittedly not great and cowgirl really dominates in that regard, but I was personally not bored by it at all due to April's gorgeous juicy ass and great riding skills.
Roughly 26 minutes in, something pretty rare and impressive happens – Zac cums early while fucking April's ass but manages to pull out in time and give her a pretty facial, and then he proceeds to fuck her for 10 more minutes. Of course, there's a cut later on, but seeing April get fucked hard with cum all over her adorable face is the absolute highlight of the scene. On top of that, she gets a second load on her lips at the end. It's also worth mentioning that April's playful performance truly shined through, even in the rough beginning. Her stunning natural body, unique dirty talk and impressive skills contributed massively to the fun factor of this messy scene.
Final verdict
A messy and somewhat unusual scene with a skippable beginning that is redeemed by some highly enjoyable, intense, oily anal in the second half, and an instance of cum-covered fucking as a cherry on top.
General information