Dankp0rn's Digest: April and May 2023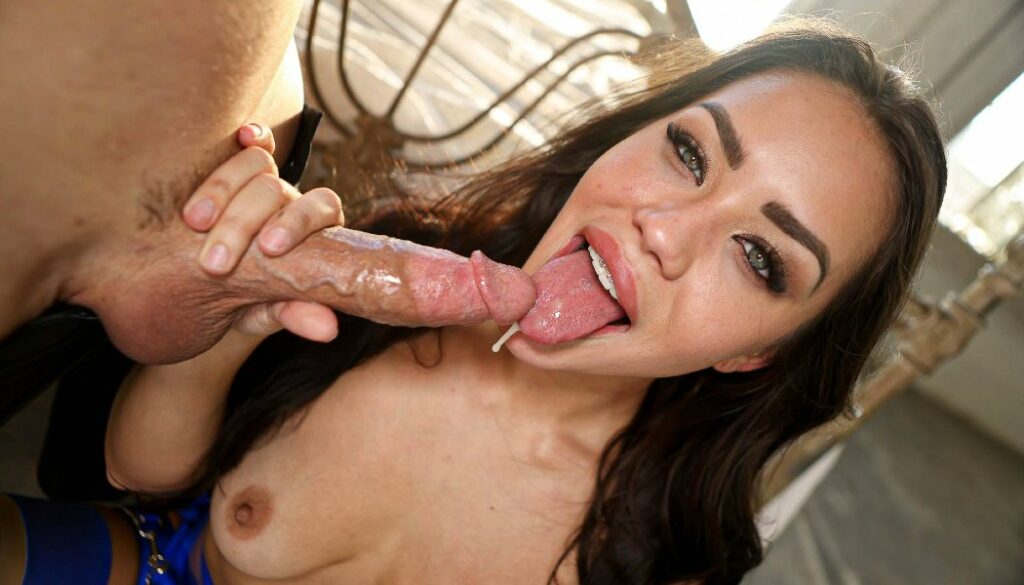 The past two months have brought some incredible porn, but also real life obligations which have prevented me from dedicating as much time to it as I would like. Nevertheless, the new installment of Dankp0rn's Digest is finally here and better than ever!. Most of the reviews are a bit shorter this time, but will no doubt prove helpful in deciding what to watch and what to avoid. Let's start with the most noteworthy releases from both months!
Alina Lopez – Fill Me Up (HardX)
Boy-girl, vaginal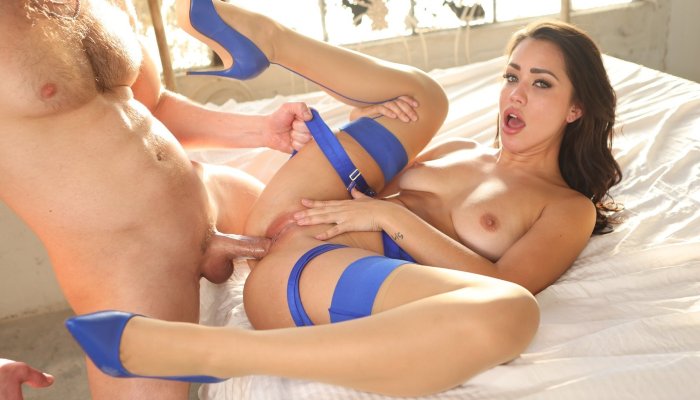 Announced way back in November 2022, the Alina Lopez comeback that pro porn fans have been craving finally arrived in late April. With a classic HardX blend of passionate hard sex and glamcore aesthetics, it has a very strong start. After a gorgeous intro that takes its time to celebrate her unmatched beauty, Alina quickly shows that she's back to leave a lasting impression with this performance. Establishing perfect chemistry with her co-star Zac Wild by means of strong dirty talk and skillful fellatio, she continues to impress throughout the scene.
Complemented by a set that combines an abandoned warehouse backdrop (and the acoustics that come with it) with lots of sunlight, the sex here feels like a genuine erotic performance. And it is almost perfect – Alina looks and sounds mesmerizing, dancing on Zac's cock in a variety of nicely paced positions. It's difficult to pick out a standout moment but I felt like it all culminated beautifully in the cowgirl section roughly 16 minutes in. The climax is satisfying, ending in a decent creampie and some lovely post-orgasm interaction between Alina and Zac.
I have one massive complaint, however – the camerawork does not build upon this amazing potential at all. It is incredibly indecisive, arbitrary and robotic. Constantly zooming in and out with little to no context or reason, as if caught in some kind of loop, without a single standout angle in the whole scene. I found it incredibly annoying as it consistently failed to capture meaningful moments and never let me enjoy the closeups before quickly zooming out again. I'm rarely disappointed by the direction and camerawork of a HardX scene, so it's particularly painful that this happened with one that porn fans have been anticipating for months.
However, I understand that most people just want to see Alina Lopez have hot, pretty sex. If you feel that way – whether you share my gripes with subpar porn camerawork or not – this is a scene you don't want to miss. The performance itself gets a 5-star rating, but I personally have to consider the quality of the scene as a whole.
Rating: 4/5
Kira Noir – Kira Noir Air Tight DP! (Jules Jordan)
Foursome, double penetration, airtight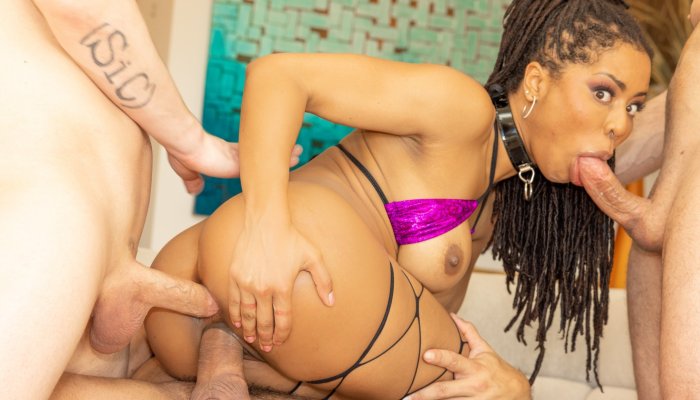 Last year's Female Performer of the Year winner continues to stun in fun gonzo performances, and this is one of her best. A special shoutout is in order for director Mike John, who is proving to be one of the most reliable pornographers in the industry right now. His scenes have been the best and most technically polished content on the Jules Jordan website recently. Reminds me of the early 2010s and the Chris Streams glory days! 
Anyway, back to Kira now. Her body and wildly sexy, stringy outfit are on full display in a classic gonzo intro that leads into extremely fun and passionate yet glamorous sex. Kira is enthusiastic and does not hold back on any level. She uses all of her sexual skills while making sure it all feels like a fun performance as well. Most notably, the scene is full of facial expressions and dirty talk that can come off as silly and exaggerated but work perfectly with the vibe of the scene and make it an instant gooner's favorite. The guys do a great job too – the penetration is visually satisfying and the positions are varied. Some of the positions are quite experimental, even, but they definitely work, and all of them are beautifully filmed. The titular airtight sections are plentiful and undoubtedly the highlights of the performance. It was also nice to see the guys cum directly into Kira's mouth for her to enthusiastically swallow their loads.
This scene is gorgeous, constantly exciting, never boring, and just plain fun. To be fair, if you're looking for something sensual and grounded, you might wanna look somewhere else. But that's not what it's trying to be. It is a flawless spectacle and a gonzo masterpiece in my book.
Rating: 5/5
Angela White, Blake Blossom – Ultimate Oil Soaked Threesome (Brazzers)
Boy-girl-girl, vaginal, oil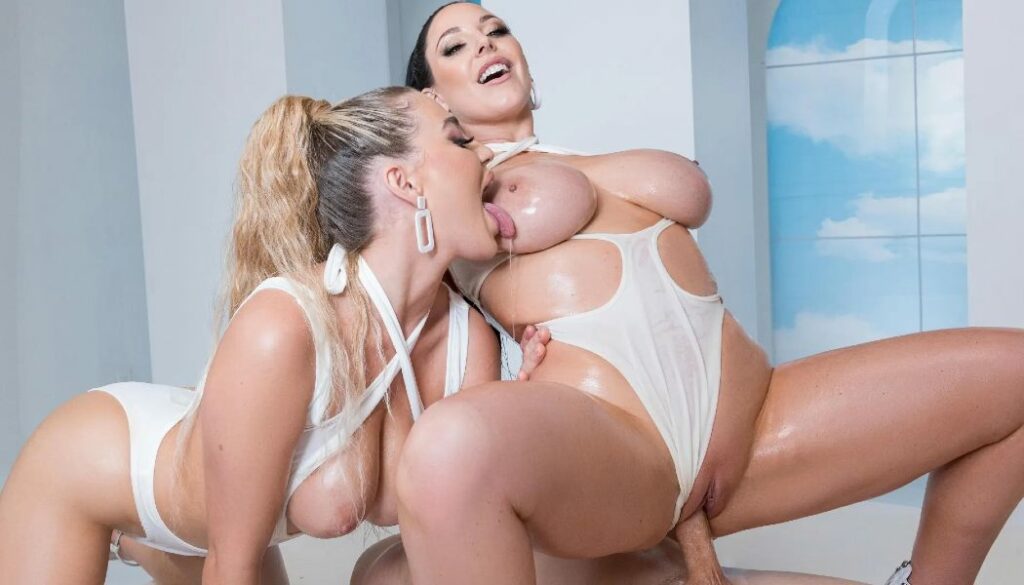 The Brazzers 2023 redemption arc is still in full swing, as here we have arguably one of the best scenes in the studio's history. This may just be recency bias – it's not like they don't have any great scenes in their back catalog. Regardless, I am convinced that this one should be among them. Angela White never disappoints, and Blake Blossom proved once again that she can hold her own alongside the ultimate pornstar.
The set is unique and minimalistically pleasant, the sex is genuinely masterful, and the camerawork does it justice despite occasional technical hiccups. From the moment Blake and Angela start playing with each other and oiling their bodies while wearing matching one-piece bikinis, you know you're in for a ride. And once the intense POV titfuck happens, you feel like you're hypnotized by the incredible performance and overwhelming beauty. The chemistry is on point – Zac Wild is playfully dominant but the girls get a chance to dominate him as well. Regardless of your preference, the sheer sexual enjoyment is palpable. There's squirting, eye contact, bouncing, laughing, dirty talking, all the little details that make a truly memorable scene, with nothing to drag it down or make it feel boring for even a second. I recommend you lube up and watch this one all the way through.
Rating: 5/5
Brandy Renee, Valerica Steele – Naughty Threesome (Bangbros)
Boy-girl-girl, vaginal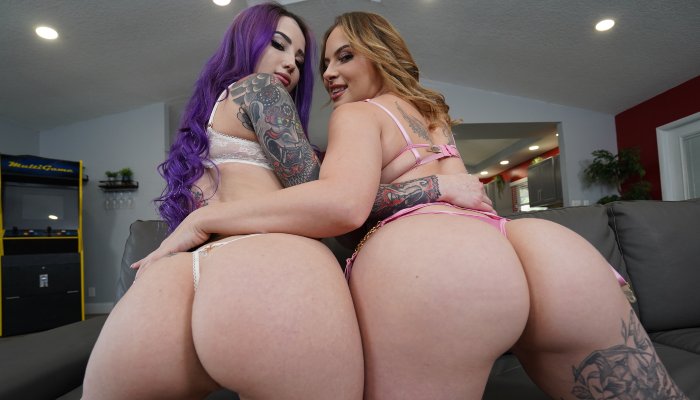 This scene's daunting runtime of one hour and fifteen minutes is justified by it being split into three sections that you can feel free to enjoy separately – lesbian, plot, and threesome. The lesbian intro shows a growth in Brandy's skill set and experience, and a professionalism we've come to expect from Valerica. It serves as a nice sexual buildup too. The plot introduces Johnny Love in the rather obnoxious yet decently entertaining role of an innocent missionary who stumbles upon two gorgeous sluts that don't hesitate to take advantage of him. Once the threesome kicks off, however, it's a whole lot of fun.
Practically every moment of this scene shows the performers genuinely enjoying themselves and having fun while also showing off for the camera. The Valerica-Brandy dynamic is particularly enjoyable, as their bodies and personalities contrast and complement each other beautifully. Johnny Love acting like an absolute buffoon does get old very quickly, but he makes up for it with sexual prowess in the later stages of the performance. Valerica tends to steal the show with her adorable giggling and squirting. The scene is full of fun moments of sexy interaction, and it's worth mentioning that there are also bits that foot lovers will enjoy. The scene ends with a lovely cumshot, too.
Overall, this is a great scene with some "plot" elements that are more annoying than funny, but also with great chemistry between two gorgeous girls and a male performer dedicated to showing them a good time.
Rating: 4.5/5
Violet Myers – Good Vibes (Tushy)
Boy-boy-girl, double penetration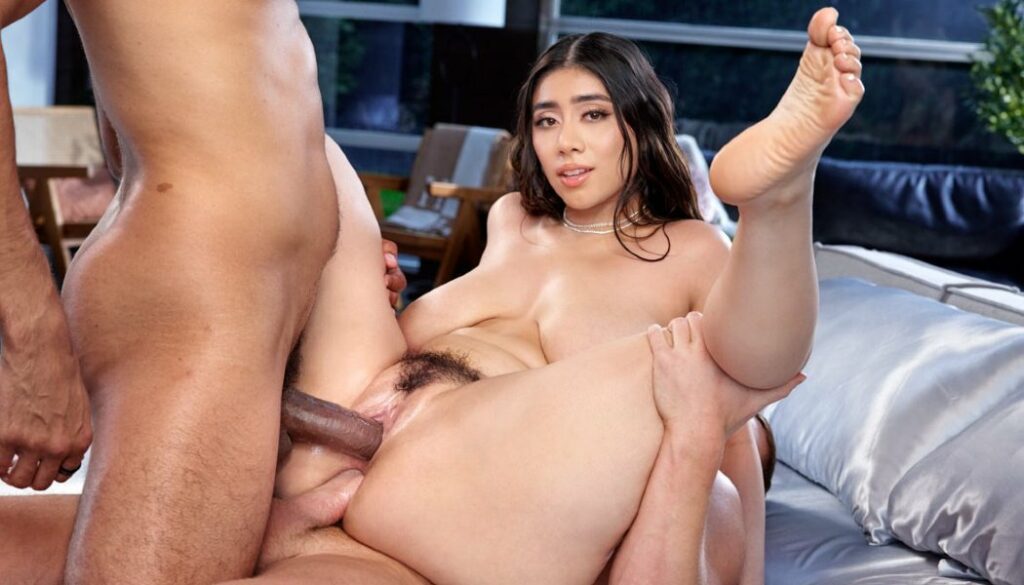 Let me be upfront – this particular review is not without a heavy dose of personal bias, as I'm not a fan of most Vixen (VMG) porn, with some exceptions from Deeper and Tushy Raw. That being said, I do want to start with some praise for this scene. Tushy does plot, outfits and general "vibes" masterfully, and this is no exception. Violet looks absolutely stunning, especially in the super skimpy red dress she wears in the intro. She is flawless as a performer too, and I would say she carries this scene.
Unfortunately, that is just not enough. The sex is done well, the sounds and visuals are all very pleasant, and I thoroughly enjoyed its early stages, especially the blowjobs. But the simple, unimaginative camerawork gets very stale, very quickly. It does capture important erotic moments pretty consistently, but in a way that simply becomes predictable and repetitive. The positions and performances kept me decently engaged, and this being Violet's first DP does make things more exciting, but this isn't something I would normally watch without skipping some parts. If you like Tushy, you'll like this release, but I think porn has much more interesting experiences to offer.
Rating: 3.5/5
Capri Cavanni – Thundercock (Naughty America)
Boy-girl, vaginal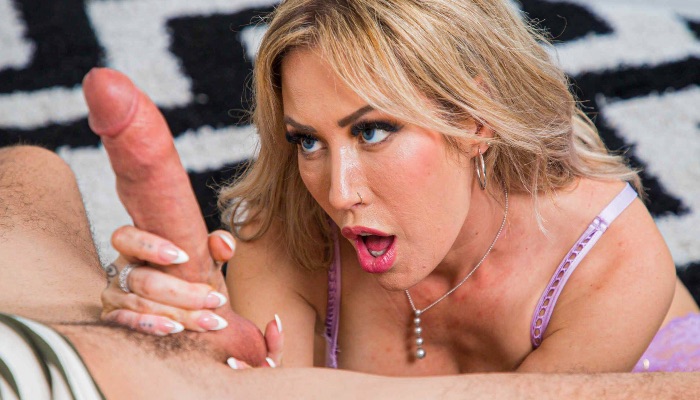 This is an unexpected comeback that I was very happy to find out about. Capri is quite an underrated pornstar, especially in terms of sheer beauty. While not the most exciting or impressive scene ever, this release by Naughty America lives up to their usual standard and Capri's qualities. It has a decently sexy plot, mostly centered around Capri's fascination with a big cock. She brings that idea to the performance as well, often seeming hyper fixated on her co-star's penis, and she enjoys it in a way that's quite pleasant to watch. It's all filmed very professionally, too. 
However, there's a considerable lack of chemistry and meaningful interaction. As a performance, it's just decent, although it does show off Capri's body and lead to a lovely orgasm. It's not on par with her more memorable hardcore appearances from back in the day, but it's good to have her back, albeit with a scene that's best for a casual viewing.
Rating: 3.5/5
Skylar Snow – So You Think You Can Squirt? Vol. 5, scene 2 (Elegant Angel)
Boy-girl, vaginal, squirt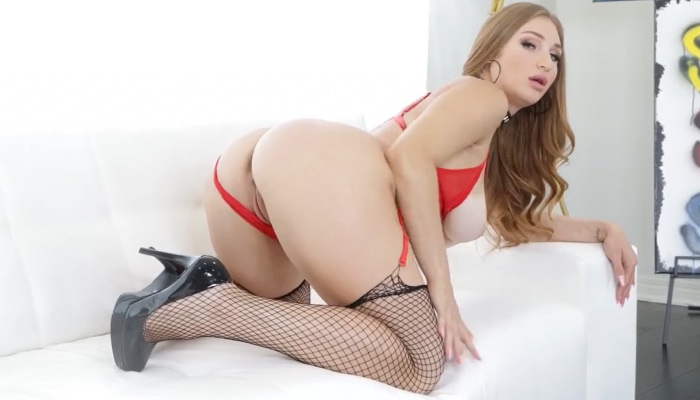 This was actually my first time watching Skylar Snow, and I'm very happy to say that I already fell in love during the captivating intro. The scene itself is not without its flaws, though. Skylar is a great performer and clearly enjoys squirting, but the squirting here happens too frequently and with very little buildup. Don't get me wrong, I don't mind watching a pornstar get absolutely drenched in squirt, but I think the act loses a lot of its significance and intensity if it happens too often and too easily. For most of this scene, it simply doesn't feel "earned", so the performance actually gets much more enjoyable in the later stages once Skylar seemingly runs out of juice. Everything else is great, though. Fun angles, face close-ups, titfucks, slurping squirt off the floor, two cumshots, good energy overall. It's only 26 minutes long, so it's ultimately an easy watch that you'll surely have fun with.
Rating: 4/5
Kay Lovely – Facial Bet (Facials4K)
Boy-boy-girl, vaginal, facials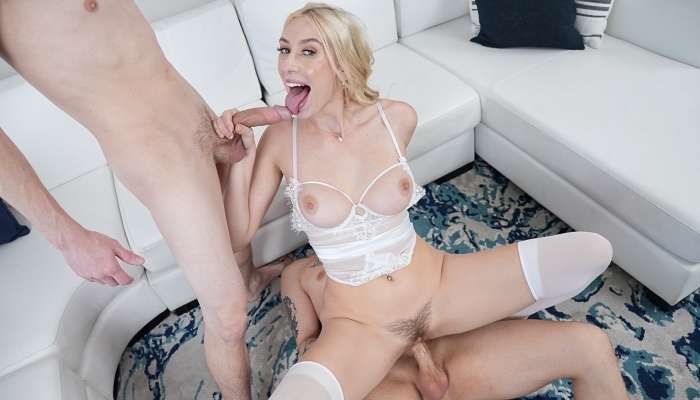 Facials4k is a studio with a fun yet peculiar approach to cumshots, but they also usually deliver a decently entertaining sex scene and make sure the girl looks beautiful while fucking. They don't have to work too hard on the latter with Kay Lovely though, as she is one of the most uniquely beautiful and talented pornstars in recent years. Here she performs in a rather by-the-book threesome that doesn't escalate to anything super impressive, but is executed well enough for a casual watch.
The cumshots are particularly interesting to talk about. Facials4k employs their usual combo of one plentiful fake cumshot and two real ones. Now, I love seeing a pretty girl's face get drenched either way (especially if she's bouncing on cock at the same time). But if you don't care for fake cumshots, this probably won't do much for you. The first real one is pretty weak and shot at a pointless angle, but the second real cumshot is genuinely lovely and a good way to end the scene. A nice replay is provided as well. If you like Kay or want to "get to know" her (and you should), then give this scene a try.
Rating:3.5/5
Maddy May – Maddy May is Finally Sexually Satisfied With a DP and Double Vag Penetration (Jules Jordan)
Boy-boy-girl, double penetration, double vaginal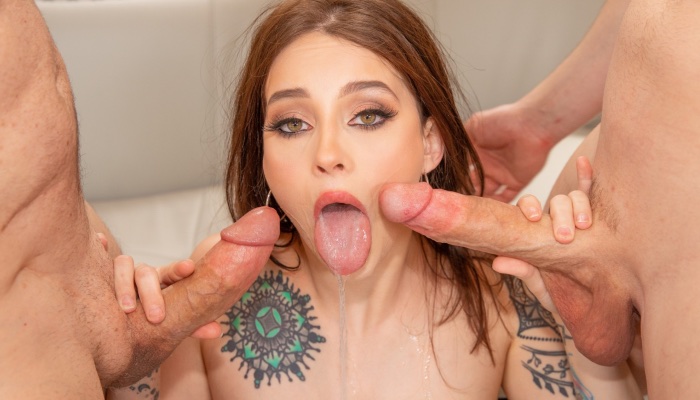 Just like the Kira Noir airtight reviewed earlier in this digest, this one is absolute gonzo eye candy by director Mike John. It's fast-paced and amazing to look at, but it's mostly carried by its visuals, especially the intense displays of double penetration. The performances are solid, too, especially that of Zac Wild. He once again acts in a pretty dominant manner, frequently spitting in Maddy's face which she seems to like but some viewers may not. However, Maddy's own performance here is what falls a little flat for me. While she looks incredible and clearly enjoys herself, she tends to come off as somewhat cold and passive as a performer. Also, the double vag happens very late and lasts for roughly two minutes. Overall, the sex is great and the visuals nearly perfect, but it's oddly paced and the lead performance is quite underwhelming and lacks personality. Then again, the less than 30-minute runtime and truly impressive visuals make it a fun and easy option to include in your session, even if it's not a very memorable one.
Rating: 4/5
Adira Allure – Blacks on Blondes 04/04/2023 (Dogfart)
Boy-boy-girl, double penetration, interracial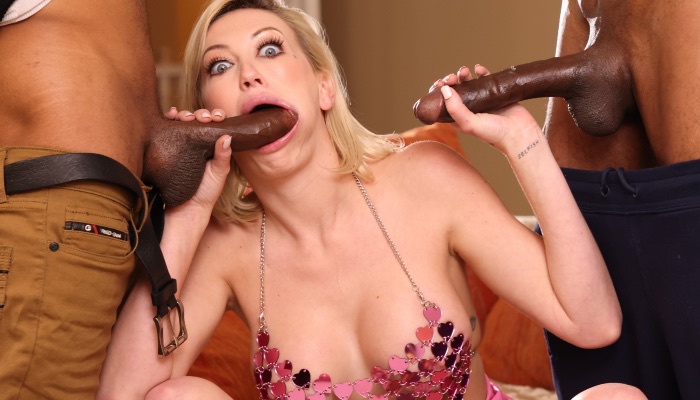 Adira Allure is a consistently entertaining performer and she truly shines in hardcore porn that lets her run wild and doesn't take itself too seriously. So she naturally feels right at home at Dogfart. This is a fun, slutty, gorgeously shot DP scene with a traditionally silly but fun plot that plays a bigger role in the sex itself than you'd expect. The basic premise is that Adira, being the nymphomaniac that she is, decides on a very efficient method of choosing between two competing suitors. Having them both fuck her at the same time, of course. Normally I don't care much about a Dogfart plot, but here they play around with it all throughout the scene which actually creates a pretty fun dynamic. I do have to mention a technical issue, though. If you enjoy your porn with headphones on, you might find this one annoying as its audio is significantly louder on one side. Other than that, this is classic Blacks on Blondes, with its standard visual style and fidelity, and with a pornstar that's perfect for the job.
Rating: 4/5
Thanks for checking out another issue of Dankp0rn's Digest! Hopefully it's been a helpful and/or entertaining read. I'll be very busy in the coming months so I probably won't have the time to keep writing these for a while, but you'll still be hearing from me. Cheers!
Click on the button below if you want to read more reviews from dankp0rn. There, you'll find more reviews about scenes from Payton Preslee, Valentina Nappi, Angela White and more!